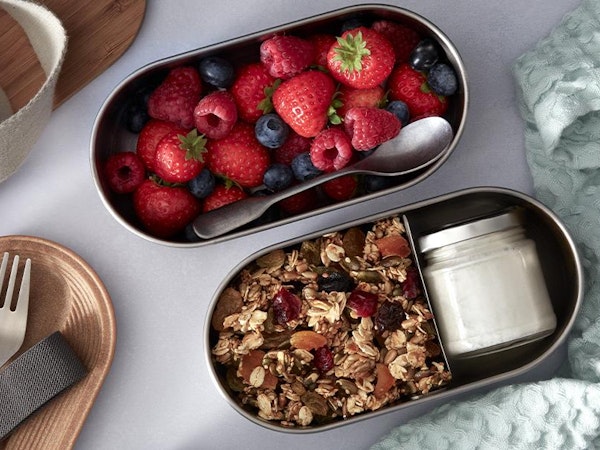 If you've resolved to start prepping your lunches for work or day trips, get inspired by our round-up of the best lunch boxes on the market. From stainless steel lunch boxes, to pots and coolers, these designs all deliver on style and performance.
Black+Blum's stainless steel lunch box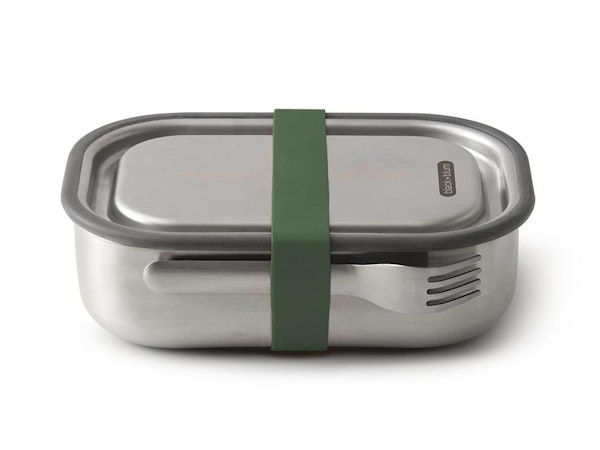 Topping our list is Black+Blum's range of reusable lunch boxes that are eco-friendly and built to last. We love them for their unique designs and use of sustainable materials. Their stainless steel lunch box will inspire you to get creative with those lunches.
We've teamed up with Black+Blum to offer our Nolii community an exclusive discount. Use promo code 'NOLII15' to get 15% off their lunchboxes either at our Nolii store in Boxpark, Shoreditch or on the Black+Blum website.
Chilly's Food Pots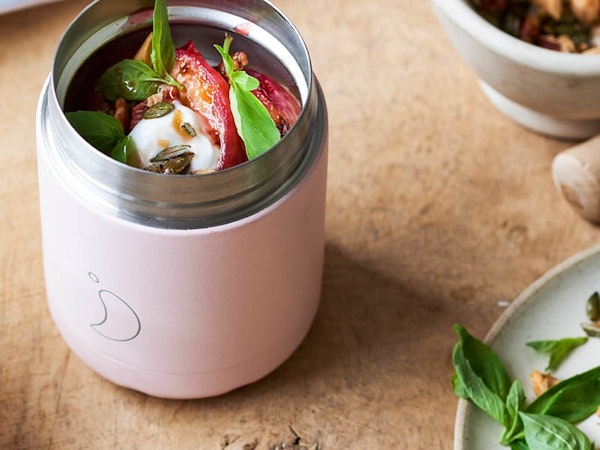 Creators of everyone's favourite water bottles, Chilly's also do a range of food pots in their distinctive bright hues. Available in two sizes and eight colours, the pots are designed with double-walled vacuum insulation and a no-spill screw top lid, so perfect for on-the-go meals. They'll keep soups hot and salads cold for up to 6 hours, plus you can explore a range of moorish recipes to pack in them on their site. As with all Chilly's products, there's an option to personalise the pot with your name, so no need to worry about your colleagues nicking your lunch!
SIGG Lunch box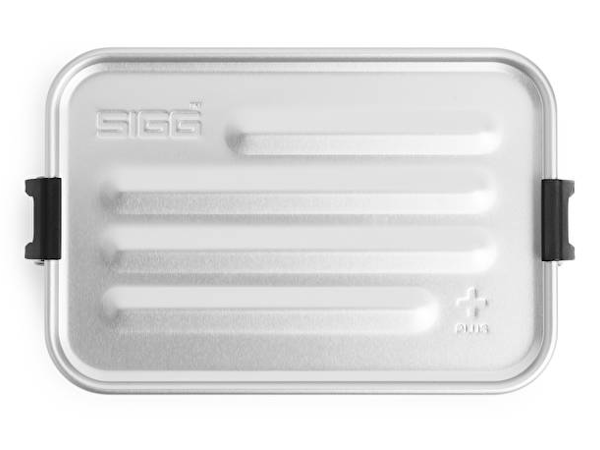 Swiss Company SWIGG has been producing aluminium bottles since 1908. Synonymous for their timeless designs, their lunch box is no exception, made from lightweight, high-quality recyclable aluminium that can withstand getting knocked about day-to-day. Inside, a removable silicone insert means it can be used in the refrigerator, microwave or dishwasher, and a divider made of polypropylene separates your food. The security lock prevents the box from opening accidentally in your bag.
HAY Steel 3 layer lunchbox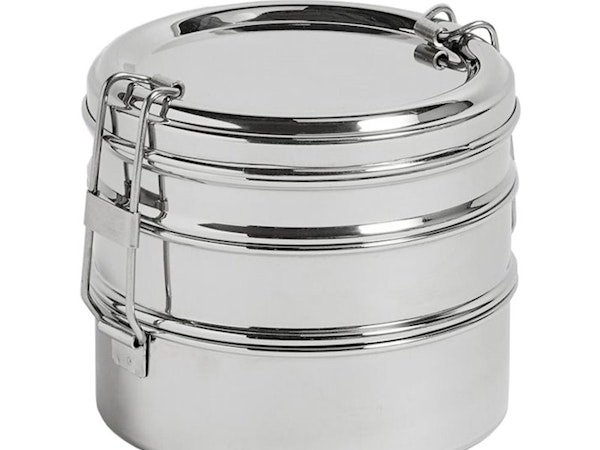 Copenhagen design powerhouse HAY have reimagined the tiffin lunch box in their own unique, Nordic way. A series of 3 round layers, it's simple and practical, as well as visually appealing. The beauty of the tiffin-style lunch box is that you can carry sweet and savoury items, or courses, separately. It's made in food-safe stainless steel with a satisfyingly shiny silver finish.
Joseph Joseph GoEat Compact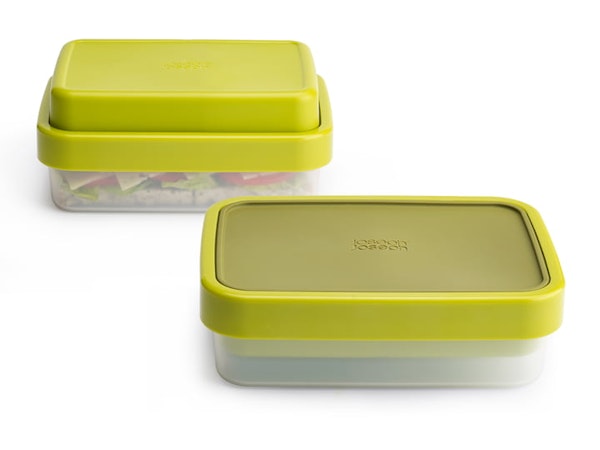 If you're looking for a lunch box that's intelligently designed and affordable, you can't go wrong with Joseph Joseph's GoEat Compact. It's space-saving design features a large base compartment for sandwiches and dry food, a top compartment with a divider for wet food or snacks, and a silicone lid with a locking collar to keep it all fresh and safely held inside. When empty, the top compartment fits inside the base and it all locks neatly together for you to chuck in your bag.
Alessi Food À Porter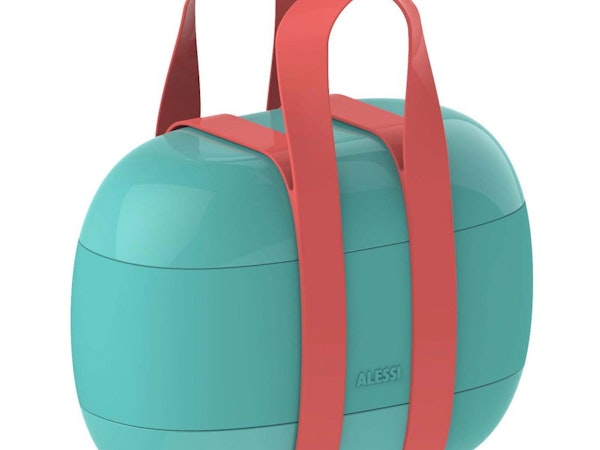 Feeling a bit extra? Then the Alessi Food À Porter lunch box is for you. The italian design brand's signature quirky style comes to the fore with this design, combining functionality and fun to create the 'lunch-clutch' that is more fashion than food. Made from thermoplastic resin in a range of pop colours, it has three compartments that are fastened with its wide handles, so you can keep your food separated.
Fjallraven Kanken Cooler Lunch Bag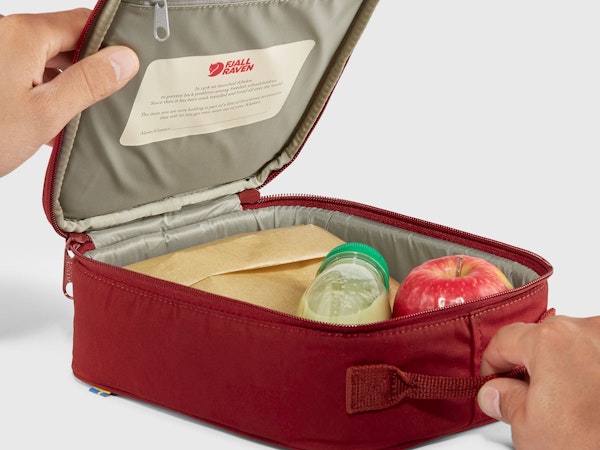 Finally, if you're looking for a cooler bag to guarantee your lunch stays at optimum temperature, look no further than Fjallraven Kanken Cooler Lunch Bag. Crafted from their G-1000 Heavy Duty Eco fabric, it's extremely durable, so perfect for bringing to work or taking on a hike. Its small internal compartment is ideal for an ice pack.